Duplex/Townhouse for rent in Mojacar Playa
Ref: R040
From €750/PCM ~ £651/PCM *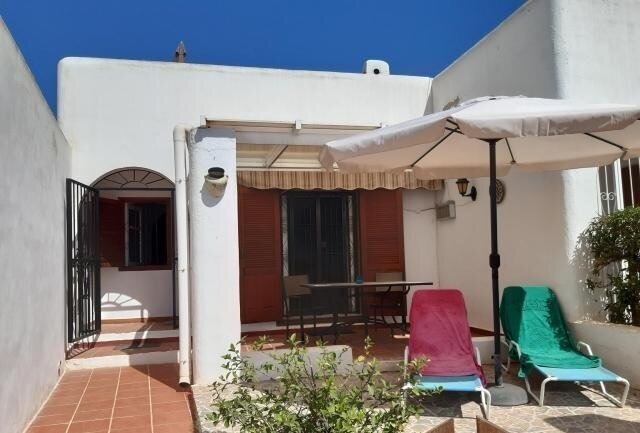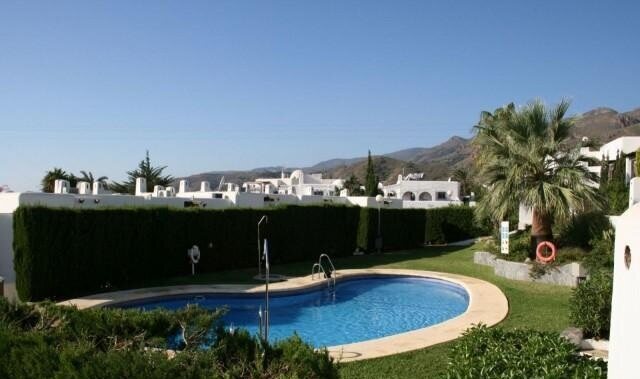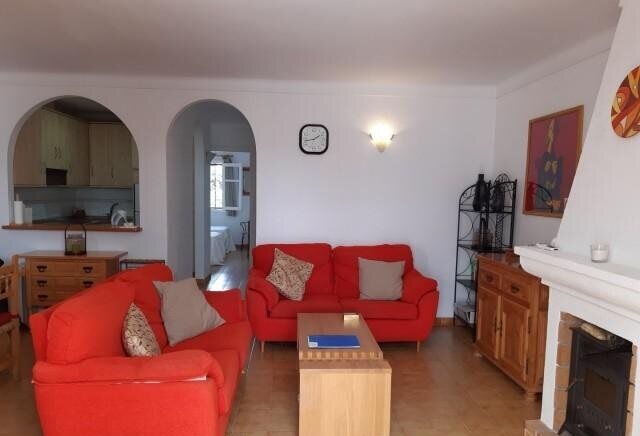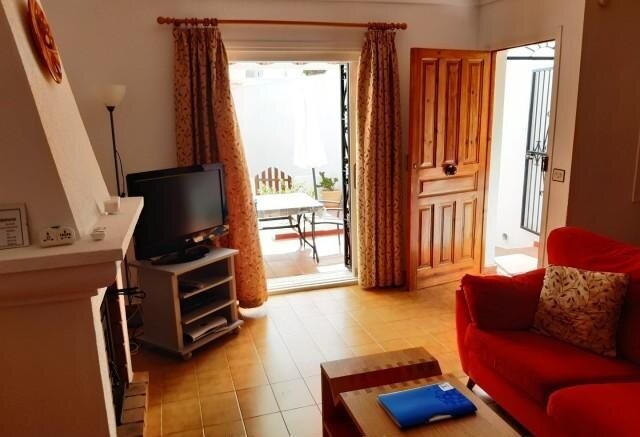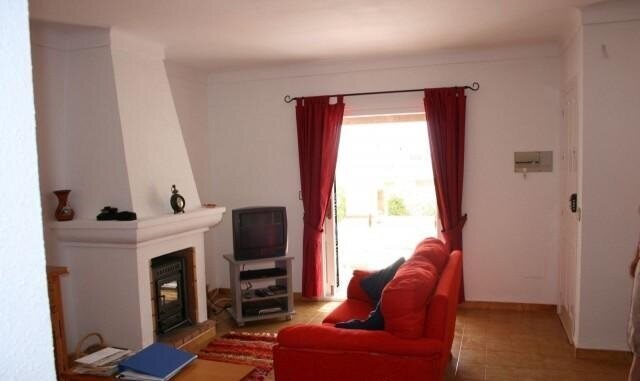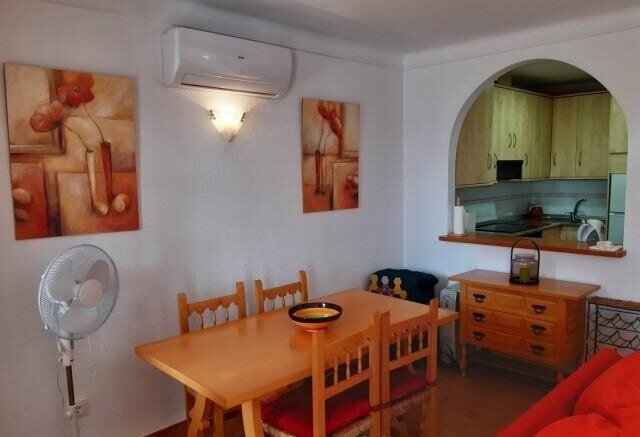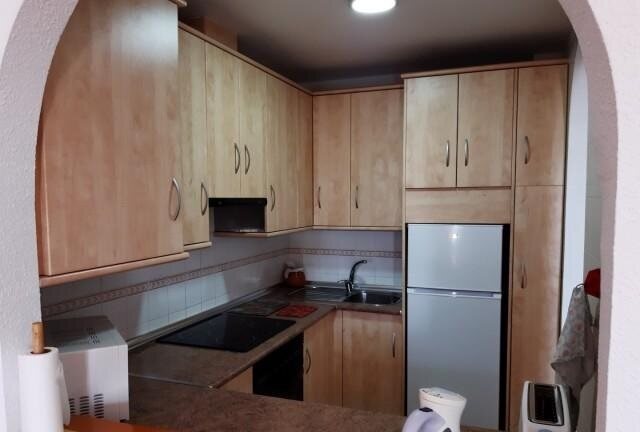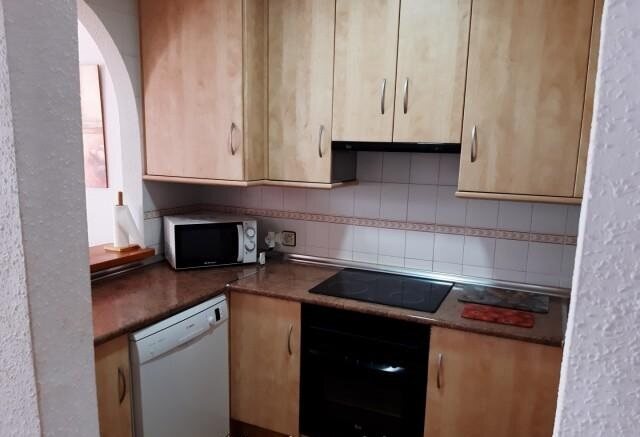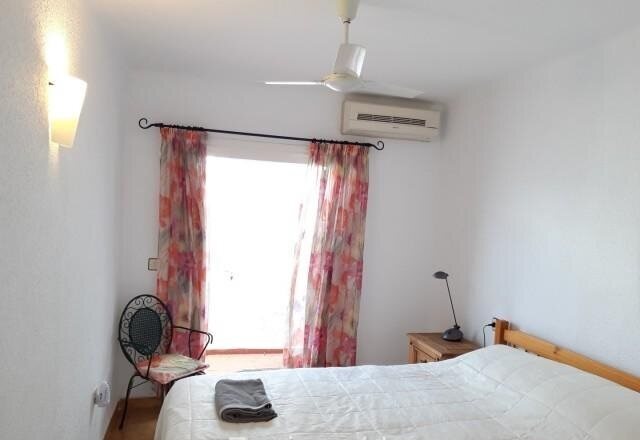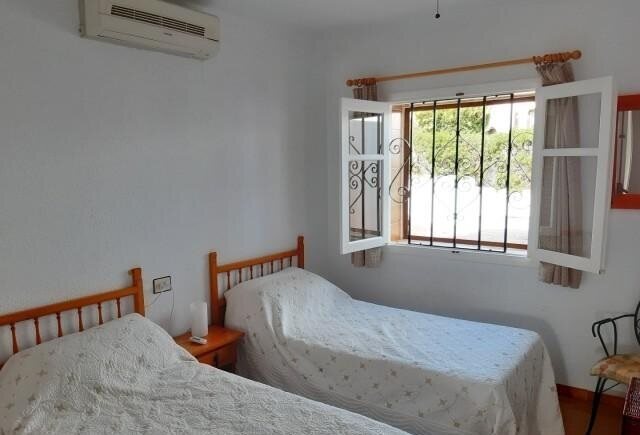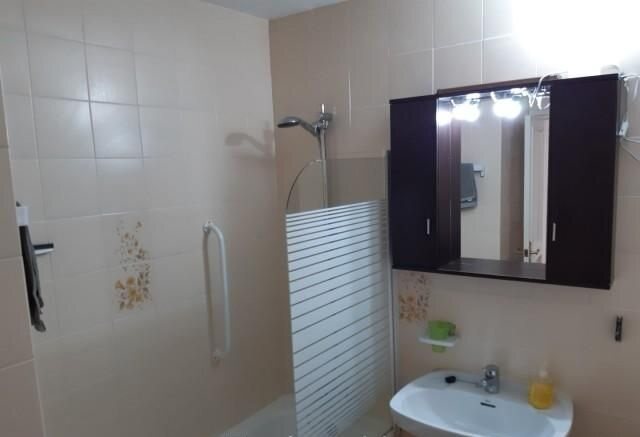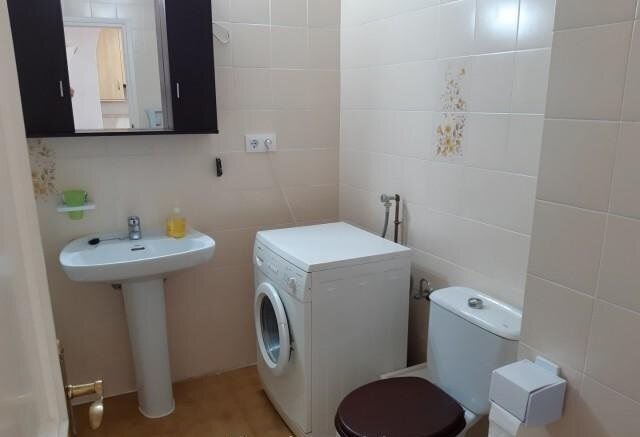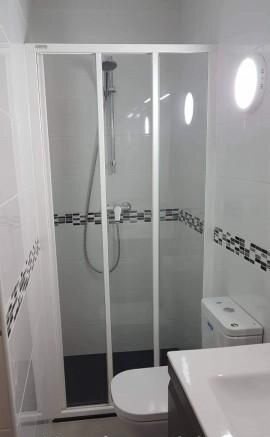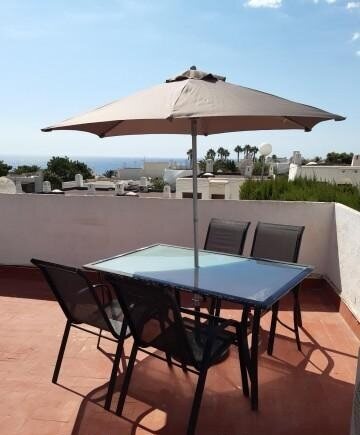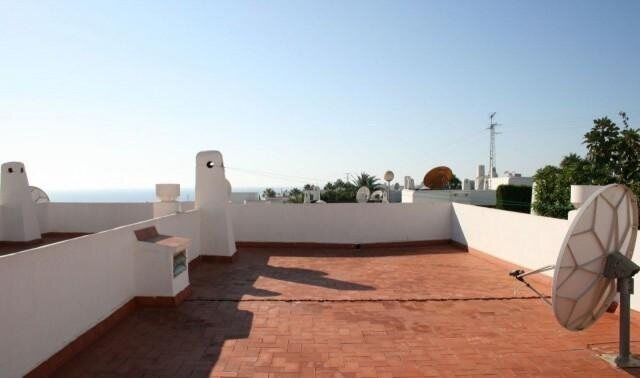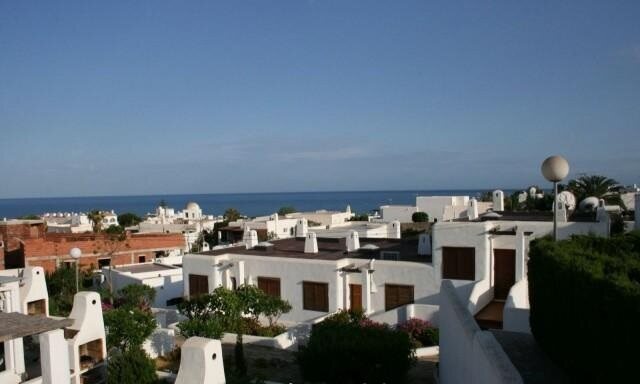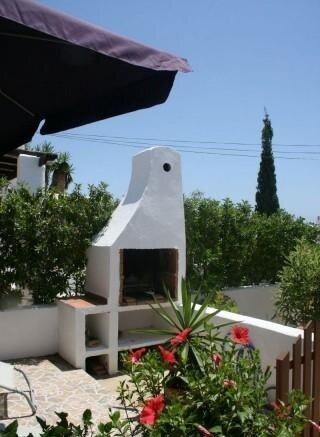 Make Favourite
Description…
THIS PROPERTY IS AVAILABLE FOR LONG/SHORT TERM RENTAL - To check the availability of this property please click the "availability calendar" at the top right hand side of the page.
For holiday lets, click on the button above 'HOLIDAY RENTALS'
Available for Winter Longer Lets or Summer Holiday Lets
This lovely Spanish-style casita (little house) is very well equipped to ensure easy living in comfortable surroundings. All living accommodation is on one floor, bungalow style, and the whole of the roof is a private solarium terrace. The views of the Mediterranean Sea and over the Sierra Mountains are stunning from here. If you're up early to catch the sunrise over the sea, you won't regret it! Through the front gate, the patio as a covered area for dining and, for outdoor cooking, a barbecue area built in. This is a great place to sunbathe too, with a large umbrella for those who need more shade. The house has aircon (which is also heating in the cooler months), ceiling fans in the bedrooms and a woodburner for the winter months if required. Whatever time of year you visit, the house can keep you warm or cool. There are reja bars (wrought iron gates) at the front of the property and on the windows, so you can cool the house safely with a through draft. The kitchen is well-equipped with a range of crockery and glassware plus cooking utensils and pans. There is an electric oven with grill, a microwave and electric ceramic hob. There is also a kettle and a toaster, as well as a fridge freezer. The main bathroom has a bath with shower over it, sink and toilet. There is a second, newly modernised, shower room with a shower, toilet and sink. You can travel light – all linen is provided including pool or beach towels. You can do your laundry while you're staying – there is a washing machine and a line on the solarium or drying rack for indoor or outdoor use if preferred. If picnics are your thing, there's a cool box to take with you. Situated back from the main drive through Mojacar Playa, the urbanisation is family-friendly and quieter than most. You can easily walk to the main shops, bars and restaurants (7-10 minutes) but if you have a car, there is a private covered parking spot for your car and on-street parking if needed. You can use the local bus from the bottom of the road to go in either direction along the Playa, if walking isn't your thing. You can access the timetable: Mojacar Bus Timetable (mojacarinfo.com) There is a well-stocked supermarket within 15 minute's walk (we've left a trolley for you to make it easy – and a cool bag!) If you want a night in, there is a TV with a full English Sky package and basic international channels. There are also plenty of board games and a stereo radio with iPod docking. There are also some DVD's and you can use the swimming pool next to the house into the evening when the weather permits. We've made the house as homely as we can for you because we love our creature comforts too.
Accomodation:
Upon entering the front entrance, you will find the lounge and dining area. 2 comfortable sofas and coffee table make a great place or read or watch TV. The dining area has a place for 4 guests and easy access to the kitchen
Kitchen:
All the amenities you need including a dishwasher and ample space for cooking preparations.
Bedroom 1:
With a UK kingsize double, the bedroom has built in wardrobes. The double doors lead to the rear patio with a staircase up to the stunning roof terrace with 360` views out to sea and over looking the pool.
Bedroom 2:
Twin bedroom with built in wardobes
Family Bathroom:
Generous size bathroom with bath tub, the washing machine is kept in this room.
Bathroom 2:
Recently refurbished, this bathroom has a walk in shower with a nice modern feel.
Outside Areas:
The front space has a dining table and barbeque. The roof terrace has a great size, ideal for sunbathing or taking in the views.
Climate in Mojacar Playa
Mojacar Playa enjoys a perfect all-year round Mediterranean climate, as does the whole of the Costa Almeria. In the sub-tropical environment temperatures rarely fall below 18ºC. During the summer months the temperature rises above 30ºC and July and August can get much hotter, dropping again around mid-September to a milder, but still warm and enjoyable 23ºC-27ºC degrees. The winters are mild and mostly dry, although the winter evenings can get chilly.
SPECIAL REQUESTS - we can arrange any of the following for your holiday
- Car Hire
- Airport Transfers
- Baby equipment hire
- Welcome packs
- Flowers
Local Golf:
Golf is located on Mojacar Playa called Marina De La Torre, Valle Del Este and Dessert Springs.
Click on the links for the resort information:
https://www.desertspringsresort.es/home/golf-club/desert-springs-golf-club/
https://leclub-golf.com/en/green-fees/spain/5-marina-golf-mojacar
https://www.valledeleste.es/green-fees-y-tarifas.html
Other local attractions, superb restaurants, Vera Aqua Park, daily Markets, Mini Hollywood and Go Karting. Please ask us for more information.
Distance from our local Airports:
Almeria Airport - 60 minute drive
Murcia Airport - 90 minute drive
Alicante Airport - 2 hours drive
Malaga Airport - 3 hours drive
Accessibility: Should you have walking/other and would like to know if this property is suitable for your requirements, please contact the team on:
+34 950 78 47 78 or email info@choicerentalsalmeria.com now for further information.
Long-term rental
Sleeps 4 people
Fully Furnished
2 bedrooms
2 bathrooms
Plot Size 100 m²
Build Size 100 m²
Mains Water
Mains Electric
Internet Possible
Air Conditioning
Communal Pool
Roof Solarium
Sun Terrace
Pool View
English Satellite TV
Washing Machine
5 minutes drive to the beach
5 minutes drive to the shops
No pets allowed
Contact Us…
* Required fields
September - 2023
Sun
Mon
Tue
Wed
Thu
Fri
Sat
1
2
3
4
5
6
7
8
9
10
11
12
13
14
15
16
17
18
19
20
21
22
23
24
25
26
27
28
29
30
October - 2023
Sun
Mon
Tue
Wed
Thu
Fri
Sat
1
2
3
4
5
6
7
8
9
10
11
12
13
14
15
16
17
18
19
20
21
22
23
24
25
26
27
28
29
30
31
November - 2023
Sun
Mon
Tue
Wed
Thu
Fri
Sat
1
2
3
4
5
6
7
8
9
10
11
12
13
14
15
16
17
18
19
20
21
22
23
24
25
26
27
28
29
30
December - 2023
Sun
Mon
Tue
Wed
Thu
Fri
Sat
1
2
3
4
5
6
7
8
9
10
11
12
13
14
15
16
17
18
19
20
21
22
23
24
25
26
27
28
29
30
31
January - 2024
Sun
Mon
Tue
Wed
Thu
Fri
Sat
1
2
3
4
5
6
7
8
9
10
11
12
13
14
15
16
17
18
19
20
21
22
23
24
25
26
27
28
29
30
31
February - 2024
Sun
Mon
Tue
Wed
Thu
Fri
Sat
1
2
3
4
5
6
7
8
9
10
11
12
13
14
15
16
17
18
19
20
21
22
23
24
25
26
27
28
29
March - 2024
Sun
Mon
Tue
Wed
Thu
Fri
Sat
1
2
3
4
5
6
7
8
9
10
11
12
13
14
15
16
17
18
19
20
21
22
23
24
25
26
27
28
29
30
31
April - 2024
Sun
Mon
Tue
Wed
Thu
Fri
Sat
1
2
3
4
5
6
7
8
9
10
11
12
13
14
15
16
17
18
19
20
21
22
23
24
25
26
27
28
29
30
May - 2024
Sun
Mon
Tue
Wed
Thu
Fri
Sat
1
2
3
4
5
6
7
8
9
10
11
12
13
14
15
16
17
18
19
20
21
22
23
24
25
26
27
28
29
30
31
June - 2024
Sun
Mon
Tue
Wed
Thu
Fri
Sat
1
2
3
4
5
6
7
8
9
10
11
12
13
14
15
16
17
18
19
20
21
22
23
24
25
26
27
28
29
30
July - 2024
Sun
Mon
Tue
Wed
Thu
Fri
Sat
1
2
3
4
5
6
7
8
9
10
11
12
13
14
15
16
17
18
19
20
21
22
23
24
25
26
27
28
29
30
31
August - 2024
Sun
Mon
Tue
Wed
Thu
Fri
Sat
1
2
3
4
5
6
7
8
9
10
11
12
13
14
15
16
17
18
19
20
21
22
23
24
25
26
27
28
29
30
31
September - 2024
Sun
Mon
Tue
Wed
Thu
Fri
Sat
1
2
3
4
5
6
7
8
9
10
11
12
13
14
15
16
17
18
19
20
21
22
23
24
25
26
27
28
29
30
October - 2024
Sun
Mon
Tue
Wed
Thu
Fri
Sat
1
2
3
4
5
6
7
8
9
10
11
12
13
14
15
16
17
18
19
20
21
22
23
24
25
26
27
28
29
30
31
November - 2024
Sun
Mon
Tue
Wed
Thu
Fri
Sat
1
2
3
4
5
6
7
8
9
10
11
12
13
14
15
16
17
18
19
20
21
22
23
24
25
26
27
28
29
30
December - 2024
Sun
Mon
Tue
Wed
Thu
Fri
Sat
1
2
3
4
5
6
7
8
9
10
11
12
13
14
15
16
17
18
19
20
21
22
23
24
25
26
27
28
29
30
31
January - 2025
Sun
Mon
Tue
Wed
Thu
Fri
Sat
1
2
3
4
5
6
7
8
9
10
11
12
13
14
15
16
17
18
19
20
21
22
23
24
25
26
27
28
29
30
31
February - 2025
Sun
Mon
Tue
Wed
Thu
Fri
Sat
1
2
3
4
5
6
7
8
9
10
11
12
13
14
15
16
17
18
19
20
21
22
23
24
25
26
27
28
March - 2025
Sun
Mon
Tue
Wed
Thu
Fri
Sat
1
2
3
4
5
6
7
8
9
10
11
12
13
14
15
16
17
18
19
20
21
22
23
24
25
26
27
28
29
30
31
April - 2025
Sun
Mon
Tue
Wed
Thu
Fri
Sat
1
2
3
4
5
6
7
8
9
10
11
12
13
14
15
16
17
18
19
20
21
22
23
24
25
26
27
28
29
30
May - 2025
Sun
Mon
Tue
Wed
Thu
Fri
Sat
1
2
3
4
5
6
7
8
9
10
11
12
13
14
15
16
17
18
19
20
21
22
23
24
25
26
27
28
29
30
31
June - 2025
Sun
Mon
Tue
Wed
Thu
Fri
Sat
1
2
3
4
5
6
7
8
9
10
11
12
13
14
15
16
17
18
19
20
21
22
23
24
25
26
27
28
29
30
July - 2025
Sun
Mon
Tue
Wed
Thu
Fri
Sat
1
2
3
4
5
6
7
8
9
10
11
12
13
14
15
16
17
18
19
20
21
22
23
24
25
26
27
28
29
30
31
August - 2025
Sun
Mon
Tue
Wed
Thu
Fri
Sat
1
2
3
4
5
6
7
8
9
10
11
12
13
14
15
16
17
18
19
20
21
22
23
24
25
26
27
28
29
30
31
September - 2025
Sun
Mon
Tue
Wed
Thu
Fri
Sat
1
2
3
4
5
6
7
8
9
10
11
12
13
14
15
16
17
18
19
20
21
22
23
24
25
26
27
28
29
30
October - 2025
Sun
Mon
Tue
Wed
Thu
Fri
Sat
1
2
3
4
5
6
7
8
9
10
11
12
13
14
15
16
17
18
19
20
21
22
23
24
25
26
27
28
29
30
31
November - 2025
Sun
Mon
Tue
Wed
Thu
Fri
Sat
1
2
3
4
5
6
7
8
9
10
11
12
13
14
15
16
17
18
19
20
21
22
23
24
25
26
27
28
29
30
December - 2025
Sun
Mon
Tue
Wed
Thu
Fri
Sat
1
2
3
4
5
6
7
8
9
10
11
12
13
14
15
16
17
18
19
20
21
22
23
24
25
26
27
28
29
30
31
January - 2026
Sun
Mon
Tue
Wed
Thu
Fri
Sat
1
2
3
4
5
6
7
8
9
10
11
12
13
14
15
16
17
18
19
20
21
22
23
24
25
26
27
28
29
30
31
February - 2026
Sun
Mon
Tue
Wed
Thu
Fri
Sat
1
2
3
4
5
6
7
8
9
10
11
12
13
14
15
16
17
18
19
20
21
22
23
24
25
26
27
28
March - 2026
Sun
Mon
Tue
Wed
Thu
Fri
Sat
1
2
3
4
5
6
7
8
9
10
11
12
13
14
15
16
17
18
19
20
21
22
23
24
25
26
27
28
29
30
31
April - 2026
Sun
Mon
Tue
Wed
Thu
Fri
Sat
1
2
3
4
5
6
7
8
9
10
11
12
13
14
15
16
17
18
19
20
21
22
23
24
25
26
27
28
29
30
May - 2026
Sun
Mon
Tue
Wed
Thu
Fri
Sat
1
2
3
4
5
6
7
8
9
10
11
12
13
14
15
16
17
18
19
20
21
22
23
24
25
26
27
28
29
30
31
June - 2026
Sun
Mon
Tue
Wed
Thu
Fri
Sat
1
2
3
4
5
6
7
8
9
10
11
12
13
14
15
16
17
18
19
20
21
22
23
24
25
26
27
28
29
30
July - 2026
Sun
Mon
Tue
Wed
Thu
Fri
Sat
1
2
3
4
5
6
7
8
9
10
11
12
13
14
15
16
17
18
19
20
21
22
23
24
25
26
27
28
29
30
31
August - 2026
Sun
Mon
Tue
Wed
Thu
Fri
Sat
1
2
3
4
5
6
7
8
9
10
11
12
13
14
15
16
17
18
19
20
21
22
23
24
25
26
27
28
29
30
31
September - 2026
Sun
Mon
Tue
Wed
Thu
Fri
Sat
1
2
3
4
5
6
7
8
9
10
11
12
13
14
15
16
17
18
19
20
21
22
23
24
25
26
27
28
29
30
October - 2026
Sun
Mon
Tue
Wed
Thu
Fri
Sat
1
2
3
4
5
6
7
8
9
10
11
12
13
14
15
16
17
18
19
20
21
22
23
24
25
26
27
28
29
30
31
November - 2026
Sun
Mon
Tue
Wed
Thu
Fri
Sat
1
2
3
4
5
6
7
8
9
10
11
12
13
14
15
16
17
18
19
20
21
22
23
24
25
26
27
28
29
30
December - 2026
Sun
Mon
Tue
Wed
Thu
Fri
Sat
1
2
3
4
5
6
7
8
9
10
11
12
13
14
15
16
17
18
19
20
21
22
23
24
25
26
27
28
29
30
31
January - 2027
Sun
Mon
Tue
Wed
Thu
Fri
Sat
1
2
3
4
5
6
7
8
9
10
11
12
13
14
15
16
17
18
19
20
21
22
23
24
25
26
27
28
29
30
31
February - 2027
Sun
Mon
Tue
Wed
Thu
Fri
Sat
1
2
3
4
5
6
7
8
9
10
11
12
13
14
15
16
17
18
19
20
21
22
23
24
25
26
27
28
March - 2027
Sun
Mon
Tue
Wed
Thu
Fri
Sat
1
2
3
4
5
6
7
8
9
10
11
12
13
14
15
16
17
18
19
20
21
22
23
24
25
26
27
28
29
30
31
April - 2027
Sun
Mon
Tue
Wed
Thu
Fri
Sat
1
2
3
4
5
6
7
8
9
10
11
12
13
14
15
16
17
18
19
20
21
22
23
24
25
26
27
28
29
30
May - 2027
Sun
Mon
Tue
Wed
Thu
Fri
Sat
1
2
3
4
5
6
7
8
9
10
11
12
13
14
15
16
17
18
19
20
21
22
23
24
25
26
27
28
29
30
31
June - 2027
Sun
Mon
Tue
Wed
Thu
Fri
Sat
1
2
3
4
5
6
7
8
9
10
11
12
13
14
15
16
17
18
19
20
21
22
23
24
25
26
27
28
29
30
July - 2027
Sun
Mon
Tue
Wed
Thu
Fri
Sat
1
2
3
4
5
6
7
8
9
10
11
12
13
14
15
16
17
18
19
20
21
22
23
24
25
26
27
28
29
30
31
August - 2027
Sun
Mon
Tue
Wed
Thu
Fri
Sat
1
2
3
4
5
6
7
8
9
10
11
12
13
14
15
16
17
18
19
20
21
22
23
24
25
26
27
28
29
30
31